Chiropractic Care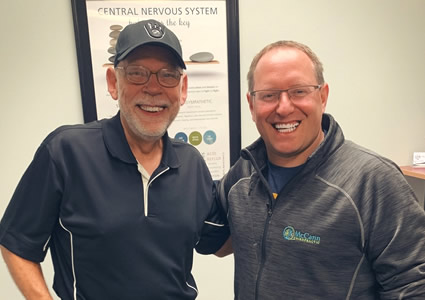 At McCann Chiropractic, we are here to partner with you in reaching your health goals. This starts by understanding how important it is to have a properly functioning nervous system.
Think of it this way-everything we do and experience in our life happens through our nervous system. Because life is full of physical, emotional and chemical stressors, it's fairly easy for your nervous system to fall out of balance. When this happens, your overall health and well-being can be affected.
An out-of-balance nervous system can show itself in many forms, including
Stress/anxiety
Poor sleep
Asthma/allergies
More frequent illness
Inability to focus/brain fog
Digestive problems
Colic/reflux
Body aches and pain
And so much more
Whether you're seeking care for yourself or a child, we offer gentle, effective and custom care specific to your needs.
Our Brookfield chiropractors are experienced in adjustment techniques that allow us to pinpoint the root cause of your problem and work to repair and restore the nervous system so that it's functioning just as it was designed to.
On your first visit, we'll go over your health history and discuss all of your health concerns. After diving deep into what's causing you trouble, we'll perform a thorough exam. Because we'd like ample time to review your findings, we'll ask you to come back for your second appointment to discuss the perfect care plan for your needs. If you're in agreement, we can begin care that very same day.
If you're a parent visiting us with your child, we'll gladly show you exactly how an adjustment will feel for your little one to help put your mind at ease. Simply put, our techniques are so gentle that most children don't even realize they're being adjusted.
Another important part of our new patient process is using non-invasive and painless Subluxation Station scans to objectively evaluate patterns of spinal and nervous system function. The scans determine where a patient's hidden patterns of stress are and how those are affecting their health and nervous system.
"The results allow us to craft a game plan for the care the patient needs," said Dr. Kate. "We not only can see how a patient's stress is affecting their health but we're able to track their change and observe for trends of improvement that will happen," she added.
FAQ
Once I go to a chiropractor, do I always have to go?
Everything is based on YOUR goals and you are in control of your care. Iff you're looking to repair and restore the spine and the nervous system, then that's what we will work toward. If your goal is to have total wellness, then that's the goal we would look to reach as well. Everything is tailored to each person. Most patients choose to continue to receive all the benefits that wellness care can offer once they finish their restorative care. But if your goal is just to stop a pain or problem, then that would be the goal we work toward.
Adjustments are not designed to be painful and everything is tailored to the individual. The doctors do an excellent job of going over the entire process before getting started. We'll make sure to address any concerns you have before care begins.
Does insurance cover chiropractic care visits?
Many insurance companies do cover chiropractic. Note that most do limit care to musculoskeletal issues. We offer affordable cash plans for those who have high deductibles or certain restrictions/limitations on their benefits.
You will know what's going on with your health, how long it will take and how much it will cost before we begin.
Do I need a referral from my physician?
Wisconsin is a direct entry state so in most cases, you won't need a referral. However, some individual insurance plans require that patients have a referral from their physician. Part of our insurance verification process is to see if a referral would be required.
Do you work with medical doctors?
Yes, we think it's very important that we collaborate with our patients' health care providers. Whether it's a physical therapist, medical doctor or acupuncturist, there's great value in collaborating for the patient's benefit.
Will I get adjusted on my first visit?
You probably won't get adjusted on your first visit. The reason for that is our chiropractors need to take the necessary time to review everything from your first visit. This includes the detailed paperwork you've filled out, the notes we've taken from your consultation, and most importantly review all your exam findings. The doctors with the then pull that all together to create a care plan tailored specifically for your needs.
In most cases, we are able to see you back the next day. We want to make sure we figure out exactly what is going on and what we need to do to give you the best care possible.
Will you suggest exercises or other things I can do?
If you are looking for nutritional counseling, exercises or other things you can be doing outside of the office to complement your care, then we can provide you with that.
This may also be a referral to another type of health care practitioner that we could be collaborating with on care or recommending a specific exercise class or program. It all depends on what each patient's goals are. Our job is to help facilitate and meet your goals.
I've had back surgery. Can I see a chiropractor?
In most cases, yes, but it would depend on the type of surgery you had and the location of your surgery. Our exam process and possible x-rays or other imagining would help us determine how we might need to modify any of the techniques that we'd use and the care we'd provide. Our goal is to make sure that care is safe and effective for the patient and would be tailored to that patient, based on what they're presenting with.
Will I know how much my care will cost before I begin?
Yes, part of your care plan will include a detailed health investment plan that will outline all the costs associated with your care. Care is always up to you.
Live Happier and Healthier
If you're wondering how we can help, we'd love to speak with you. Contact our practice today to get started. Your family deserves to live happy and healthy lives!
CONTACT US »

Chiropractic Care | (262) 782-9700